America is losing its "home field advantage" because we are so divided. To shrink that division there must be something to rally around. The founders of Home Field Advantage (HFA) believe that a commitment to Service – helping others to be better – can be that rallying point. Celebration of Service (COS), HFA's signature event, came to be because of that belief.
The primary objectives of the Celebration of Service are:
Inspire attendees to become better citizens by helping others to be better.
Salute those protecting us – our Front Line Forces (Military & First Responders).
Acknowledge those providing support.
Another key element of COS is the presentation of the Sijan Service Award. It is named for Captain Lance P. Sijan, the only Air Force Academy graduate to receive the Medal of Honor.
In 2019, Mr. Gary Sinise was the first Community Champion to receive the award.
Sijan Service Award Honorees
2017 – Jim Dolan (Founder of Heroes on the Water)
2017 – Harvey LeCato (National Sertoman of the Year)
2018 – Rodney Bullard (Author of Heroes Wanted)
2019 – Gary Sinise (Philanthropist and Actor)
Celebration of Service Awards 2020 (Livestream)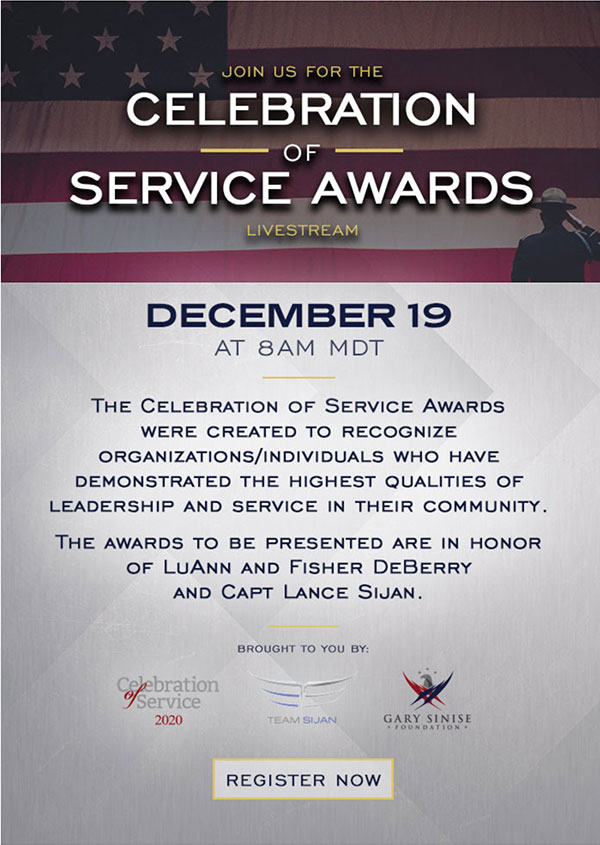 The Celebration of Service Awards were created to recognize organizations/individuals who have demonstrated the highest qualities of leadership and service in their community. The awards to be presented are in honor of LuAnn and Fisher DeBerry and Capt Lance Sijan.
DeBerry Award for Support of Youth: The Christmas Tree Project
DeBerry Award for Support of Front Line Forces: Homefront Military Network
The Sijan Service Award: Steve Atwater, Denver Broncos, Pro Football Hall of Fame
Awards Presentation: 8:00AM MDT